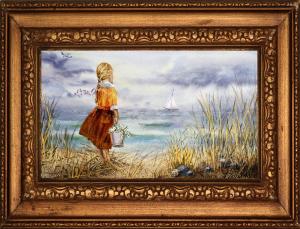 My followers often ask me what sells the best on my websites. I wanted to share here just a few bestselling artworks that were recently sold. They found good homes all over the U.S. and the World.

One of my favorite paintings and also among my art collectors best choice is the bestseller watercolor Girl And The Ocean:


Another one was all about Holidays, a festive poinsettia watercolor painting:


To my surprise Poinsettia painting with White plant was also popular and went to a nice home to the state of Illinois. This painting is created with realism in watercolor approach and I named it White Christmas:


But it appears that the customers also prepare some other gifts for their relatives and friends rather than paintings. One of my customer just recently bought two different designs on five pillows for living room decoration. What a great gift idea!


I am so happy that the Art Collectors have a great choice and selection from my new gallery Gift Ideas http://irina-sztukowski.pixels.com/collections/gift+ideas
It is not easy to decide which gift to give to the loved one; but, it is surely wonderful that people these days decide to give unique gift of art that will last years to come!! :)